W jaki sposób mój umysł przyswaja informacje? Co mogę zrobić, by uczyć się efektywniej? Jak rozwijać swój potencjał?
Wykonaj badanie i dowiedz się, co możesz zrobić, by lepiej przyswajać wiedzę i działać skuteczniej.
CO TO JEST BRAINCORE?
BRAINCORE jest narzędziem diagnostycznym zainspirowanym najnowszymi odkryciami z zakresu neurobiologii i pedagogiki poznawczej. Stworzonym przez doświadczony zespół naukowców i psychologów, specjalistów edukacji. To wyjątkowe narzędzie do samorozwoju.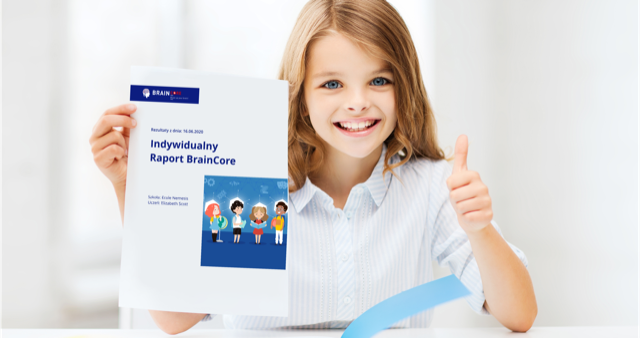 CO ZYSKASZ DZIĘKI BADANIU?
Dowiesz się, w jaki sposób funkcjonuje Twój umysł
Zwiększysz świadomość tego, jak przyswajasz informacje
Poznasz sposoby na rozwijanie skuteczności uczenia się i działania
DLA KOGO?
Uczniów od 12 r. ż. i ich Rodziców (dla nich specjalna aplikacja)
Studentów
Każdego, kto chce zwiększyć skuteczność uczenia się i rozwijać swój potencjał
CO DAJE PLATFORMA BRAINCORE
Udostępnia spersonalizowany, obszerny raport, który opisuje właściwości uczenia się i działania badanej osoby
Pokazuje unikalne wartości 5NAD oraz wskaźniki emocjonalne
Daje informacje na temat mocnych stron ucznia oraz obszarów do rozwoju
Dostarcza wielu rozwiązań pomocnych w zwiększeniu własnej skuteczności działania i uczenia się
JAK TO DZIAŁA
Test online
Indywidualna diagnoza w postaci obszernego raportu, pokazującego potencjał ucznia oraz konkretne wskazówki do rozwoju
Omówienie wyniku przez certyfikowanego specjalistę – 45 minutowa konsultacja
Cena badania wraz z 45 minutowym omówieniem to 249 zł.

KONTAKT
Jeśli chcesz dokonać zakupu badania skontaktuj się ze mną. Serdecznie zapraszam!